Playing squash is becoming more and more popular ,especially in west countries. Squash ball playing is hot sports now . As some companies who produce and sell tennis shooting machines, also see the potential market for squash ball playing, the most famous brand for squash ball machine is Siboasi.
Siboasi is a professional manufacturer for producing and selling sports training machines. Main ball machines are : squash feeding ball machine, tennis automatic shooting machine, automatic shooting basketball machine, soccer ball training machine, volleyball automatic feeding machine, string rackets machine, automatic shooting badminton machine etc.  With these years experience in producing and selling for automatic squash shooting machine , siboasi playing squash ball machine is the hot seller among different brands , from this point, could see that siboasi brand quality and design are good, that is why clients are willing to pay to buy it .
Siboasi has 2 years warranty for its squash training machine, so client do not need to worry at all , with siboasi professional after-sales team for the after-sales service, making clients very satisfied .
Siboasi squash ball shooting machine relies on two soft wheels to squeeze the squash head to shoot the squash ball. The squash ball training machine has a turntable, which distributes the squash to two soft wheels. The motor drives the two soft Wheels that squash and shoot squash by spinning quickly.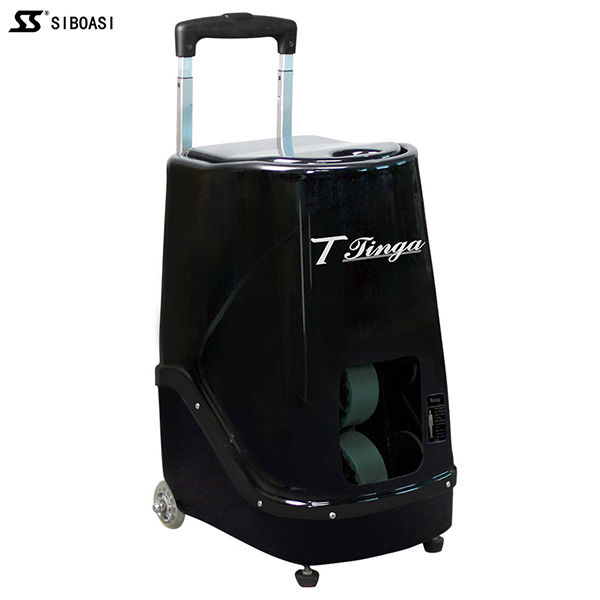 Below for more details for Siboasi automatic shoot squash ball machine :
| | | | |
| --- | --- | --- | --- |
| Item Number: | Squash ball feeding machine S336 | Packing measurement: | 53*45*75cm(After Packing) |
| Product size: | 41.5CM *32CM *61CM | Packing Gross Weight | 31 KGS -After packed |
| Power (Electricity): | Meet different countries: 110V-240V AC POWER | Important Parts: | Remote control,charger,power cord,battery for remote |
| Warranty: | With 2 years Warranty for squash shooting machine | Chargeable Battery: | Last about 3 hours |
| Frequency: | From 2-7 S/per ball | Ball capacity: | Could hold 80 balls |
| Machine Net Weight: | Only 21 kgs-easy to carry | After-sales service: | Pro After-sales team to follow until solved |
1.  Intelligent automatically shooting system ;
2. With full functions smart remote control to operate(could adjust speed, frequency,angle,spin etc.);
3. Self programming functions for different training;
4. Fixed point ball;
5. Random ball ;
6. Horizontal and vertical recirculating ball;
7. Topspin and backspin training;
8.Cross shooting training ;
Siboasi would keep to develop out more better sports training machines for clients ,if clients want to buy or do business, could contact us back directly .
---
Post time: Jan-12-2022